Winter fall has just arrived. Want feel the magic of winter? Then nothing can feel like fall without a pumpkin patch outing as it's one of the best ways to say hello to the coming autumn.
Being an American you might have searching for the best pumpkin patches near you? Isn't it? Well you don't have to worry about it as we have rounded up the best pumpkin patches in United States for all those looking to welcome the winter fall with zeal and zest.
So let's get started!
6 Best Pumpkin Patches in America for Fall Fun
Here are the best pumpkin patches all over America for welcoming the autumn.
"Ashland Berry Farm" located in Beaverdam, Virginia
Give it a try to the farm's doughnut shop. And you can go for the pumpkin challenge. You can go for a hayride out to the pumpkin patch (spread over 30-acre) and carry as many pumpkins as your arms can hold. Then you have to take three steps carrying them in your arms and will all yours just for $25.
If you love spooky adventures, don't forget to check out "Terror on the Farm".
"Exploration Acres situated" in Lafayette, IndianaHere, besides picking pumpkins from a huge and lovely pumpkin patch, you can enjoy many activities like taking a pony ride, eating your food by the side of an open fire quarry, taking a spin (on a pedal car). And the best part is you can enjoy Northwest Indiana's biggest corn maze (an 18-acre wonderland with 8.8 miles of paths and five mazes. And to satisfy the child within you dive into a knoll of hay.
"Petaluma Pumpkin Patch" in Petaluma, California
You can find here more than 50 variations of pumpkins grown by the 4th generation of Jim Groverman (Petaluma Farmer). They offer to pick directly from the plant for all of your needs from cooking to paintings. At this amazing pumpkin patch, you can have once in a lifetime experience with tastings and fall foliage chasing.
To make your trip even more memorable, you can go to a corn maze (four-acre) and mounds of hay with 500+ straw bales to dive. Children will go crazy enjoying the petting zoo, pony rides, carnival slide, and much more.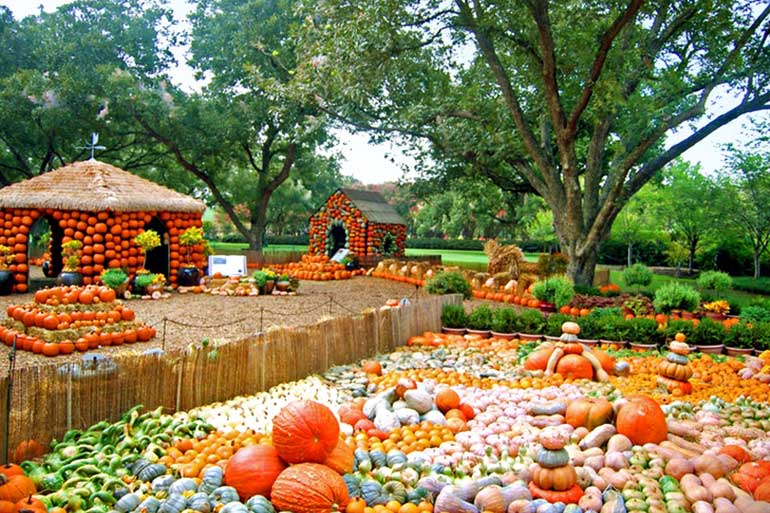 "The Preserve Sporting Club & Residences Hobbit House Pumpkin Patch" located in Richmond, Rhode Island
If you love to do photoshoots in the pumpkin patch, then here you can reserve a spot for half an hour to satisfy your wish of taking photos. A group of four people has to pay $200 for the excursion. It doesn't come affordable, but the location is decorated with uncountable prudently organized pumpkins from the inside out, which make it a perfect backdrop for taking family photos.
You can also take the magical pumpkins home for just $20 per pumpkin.
"Studt's Pumpkin Patch & Corn Maze" in Grand Junction, Colorado
This is an almost 12-acre patch with over 45 varieties of pumpkins to discover. After can see pumpkins in the shades of pink, brown, red, yellow, white, or orange pumpkin (and can take home as well). There are huge pumpkin trampolines, pumpkin bowling, and pedal cars for all ages, a barrel train ride, a zip line, corn mazes, corn cannon target, a zoo, a horse carriage hayride, and much more.
"Beck's Harvest House" in Spokane, Washington
Endeavor to Beck's Harvest House, this one of the must-visit attractions in the Green Bluff collective of family-owned farms. On a visit, you would discover yourself at a spectacular fall. You will love giant corn maze and pumpkin doughnuts, and obviously, you can pick the pumpkins too.
And on top of that, there's live music through Halloween that goes well with farm-fresh apple cider, doughnuts, and sweater weather.