The Celera 500L which is an egg-shaped business airplane with the smooth flow & diesel engine could revolutionize business aviation.
The shape of the Otto Celera 500L looks like an egg, a blimp, or a bullet what you want to call it. This is one of the unique aerodynamics planes that look like no other.
The design of the Celera is created to radically decrease drag by letting air move effortlessly over the entire surface of the bullet plane. This allows it to consume less energy which depicts aircraft is fuel-efficient.
According to William Otto Jr. (CEO of Otto Aviation), this makes it four to five times more efficient than the other turboprop aircraft, and seven to eight times more efficient than the jet aircraft.
As per Otto Aviation's statement flying on the Celera 500L will charge around $328 per hour when compared and contrasted to $2,100, with an energy economy of 18-25 miles/gallon (alike to a large SUV, matched to 2 to 3 miles/gallon).
This bullet aircraft has enough space for six passengers, flies at a speed of 460 miles per hour, and has a range of 4,500 miles.
The Celera 500L Could Transform Business Aviation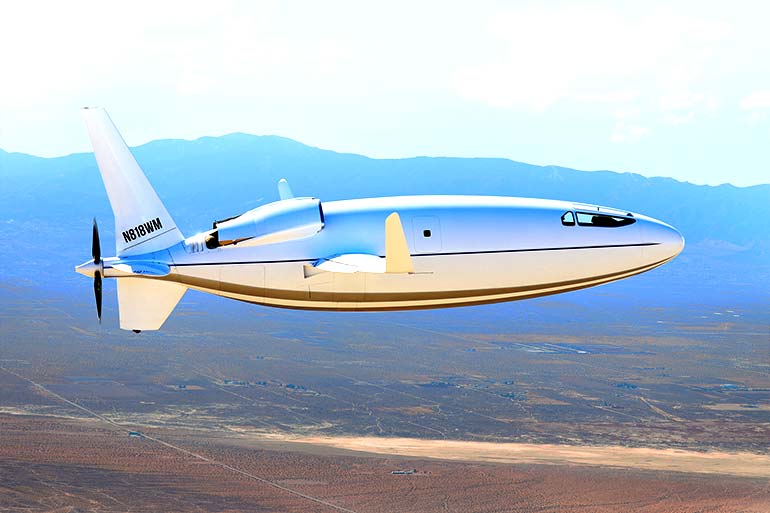 The Celera 500L, which is currently in a prototype form. An aerospace veteran, William Otto Sr. whose work ranges from the United States Minuteman missile program to the B-1 bomber envisioned this aircraft. The aircraft project launched as a thought experiment by asking this question— would it be possible to create a business plan that is radically inexpensive to run than existing alternatives.
Otto took inspiration from torpedoes studies he had done before (when he tried to fit them into a submarine). To do so, he created the engines that drove them sufficiently smaller, by giving the torpedoes a more effective form that need less power.
The egg-like shape of the Celera 500L is designed based on a concept known as laminar flow. And the plane is an egg-like shape that helps to achieve laminar flow that allows air to flow in parallel layers without any disruption on the surface of the plane– that allows the airplane to penetrate smoothly through the air.
According to Otto Aviation, this design provides around a 59% decrease in drag matched to an equally sized airplane, bringing in massive fuel savings and fewer emissions.
As the plane needs less fuel, the Celera 500L is enabled with a single V12 diesel engine which is designed by German manufacturer RED. Otto said that single V12 diesel engine was the most proficient aircraft fuel engine we could find, to match the most capable sleek body.
For making the plane emissions-free it could be replaced with a hydrogen or electric engine in the future.
Otto further added that for now, it emits 80 % fewer carbon emissions when compared to competitor aircraft. We're better than the airlines striving to meet the 2030-2050 emissions requirements on a per passenger basis.
The shape of the Celera 500L makes its cabin roomier than that of other airplanes including the Pilatus PC-12 and the Beechcraft King Air. The cabin height is 6'2″ which enables individuals to walk onto the airplane. It has a stand-up toilet which is the same height as a mid-size business aircraft.
The exceptional exterior, though, could be a hindrance for some patrons. Primarily, private clients can buy the bullet plane at a price tag of $5 million.