There is a solid chance you'll have to provide proof of COVID vaccinations when you need to enter different venues including workplaces, concerts, shopping malls, and even buy a flight ticket. Apple has made it easy for iPhone users to save them from the hassle of finding an email or carrying a card in their wallets or pockets.
Apple, Inc. is offering a digital copy of COVID-19 inoculation cards and test results in the company's" Apple Wallet app" for users to show at businesses workplaces, and other venues.
Apple, Inc. has launched the latest feature in consonance with the existing Pandemic situation to facilitate its customers.
Apple Inc.'s Recent Update Allows Users to Store COVID-19 Records
The corporation revealed in a post on Tuesday that this feature would be made available to the users in an "upcoming Apple software update."
Apple explained that "With the recent iOS 15 updates, iPhone users can now download and save certifiable health records, such as COVID vaccinations records and its test results, in their Health app. Recording verifiable health records in the Apple Health application would be based on the SMART Health Cards specification.
Consumers can share their verifiable health records or certificate or store them in their Health app that approved third-party apps can request (including airlines, event venues, and other businesses that facilitate in-person interactions). "And after an upcoming software update and installation, user can now add their verifiable COVID inoculation archives as a vaccination card in Apple Wallet. So this upcoming feature will facilitate users to present to businesses, airlines, venues, and more."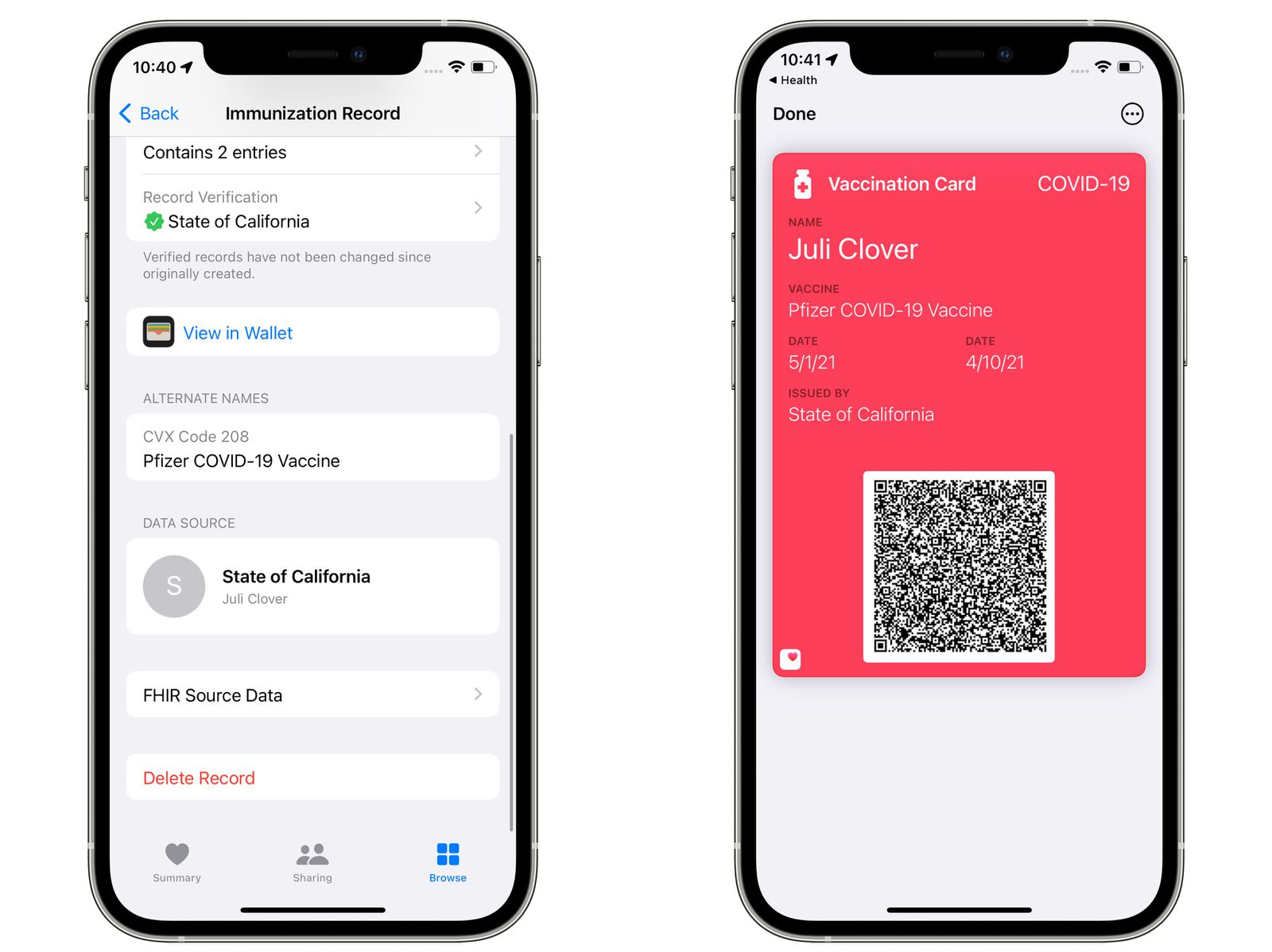 Apple further added that "Administrations that issue SMART Health Cards will soon enable organizations to use a new button for letting their users identify that they can download, retrieve, and store their COVID vaccination records in the Apple Health app to quickly store or present it to the concerned organization from Wallet. Furthermore, artwork and user guidelines will be soon made available."
An image of the digital cards will include information such as name, a QR quote, and name of the issuer, the name of the vaccine inoculated along with dates of the first and second doses.
As per the 9-5Mac, it will depend on the state (US) and the concerned health care provider of the consumer, whether they can take advantage of this new Apple feature or not.
On Monday, Apple released IOS 15 and a blog post (Apple developer) published on Tuesday elucidated how iPhone consumers can download and add health records including COVID-19 shot and other health test results in the Apple iPhone Health app.
These changes in a software update were made because an increasing number of U.S. citizens were asked to show vaccination certificates against COVID-19 as proof at their workplaces or restaurants, or shopping malls, concerts, and more.
Apple further reported that Silicon Valley won't be allowed to import or share user's records, and all the records and information would be encrypted, secured, and stored when transferred to a third party. Not only this, but Apple will also be unable to see a user's immunization cards and other related test results.